Don't Forfeit Our Future: Invest Now to Get America Safely Back to School and Back to Work
While COVID-19 is triggering state and local budget crises across the nation, AFT members, and other union members and public service workers, are essential to reopening our economy safely. 
We cannot get back to work, back to school and back to our future without critical investments, and without ensuring workers have a voice in that process. The Senate and the president must fund public education and state and local public services now. That's why it is so important for our senators hear from you and your colleagues.
We have provided tools and resources below. We need to act now!
---
Take Action
Write a letter and tell your Senator to fund state & local governments 
Call your Senator and use these sample talking points

Congress has not done nearly enough to provide state and local governments with the funding they need to continue to deliver quality public services.
If we see massive layoffs because we don't get state and local aid, there will be extreme cuts to public services with catastrophic effects. Entire communities will suffer both from a public health and economic perspective.
We can't fight this pandemic or reopen the economy without strong public services and public service workers to deliver critical services.
We continue to put our lives on the line every day to serve our communities. We do it because we love our jobs and care about helping people, and I don't think anyone believes we deserve to be laid off.
What you need to know (and share)
Comprehensive resources for AFT local officers, affiliate staff, and member-activists
Senate push for June: Don't Forfeit Our Future
A Plan to Safely Reopen America's Schools and Communities
Fact sheets
State-by-state campaigns
Alabama | Alaska* | Arkansas | Arizona* | California | Colorado* | Connecticut | Delaware | District of Columbia | Florida* | Georgia* | Hawaii | Idaho | Illinois | Indiana | Iowa* | Kansas | Kentucky* | Louisiana | Maine* | Maryland | Massachusetts | Michigan | Minnesota | Mississippi | Missouri | Montana* | Nebraska | Nevada | New Hampshire | New Jersey | New Mexico | New York | North Carolina* | North Dakota | Ohio* | Oklahoma | Oregon | Pennsylvania* | Puerto Rico | Rhode Island | South Carolina | South Dakota | Tennessee | Texas | Utah* | Vermont | Virginia | Washington | West Virginia* | Wisconsin | Wyoming
*newly updated
Social Media
Download and share these graphics in a variety of sizes (ZIP file). See samples below.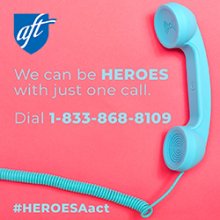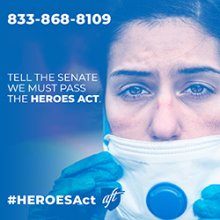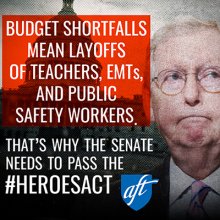 What we need now:
We need at least $100 billion for public education to safely reopen our public schools, so our kids can go back to school and we can support their academic, social and emotional needs and give them a chance to meet their potential. We cannot forfeit our future by laying off teachers and counselors and underfunding our children's educational needs.
We need $500 billion for state aid and $350 billion for local aid that funds the services that retain our EMTS, public safety officers, teachers and school workers, sanitation workers, home-care providers, and other frontline public service workers who are essential to fighting this pandemic and reopening our economy. They have been there for us, and they are a critical part of our recovery, as well as keeping our communities safe and livable.
We need $175 billion for the health and safety of our frontline providers and the American people. We need widespread testing, contact tracing, adequate PPE supplies, relief for affected families, and expansion of Medicaid to ensure that vulnerable populations are treated to stop the spread of the virus.
We Care. We Fight. We Show Up. We Vote.
For our communities and workers—Tell Congress not to forfeit our future!